The 2020 Subaru Love Promise Customer and Community Commitment Award
We've been nationally recognized for our dedication to our customers, our community, and the Subaru Love Promise.
We're honored to receive the 2020 Subaru Love Promise Customer and Community Commitment Award. This award nationally recognizes elite Subaru retailers who provide an exceptional customer experience at every interaction with Subaru. These retailers have also demonstrated an outstanding commitment to supporting passions and causes in their local communities in important areas such as the environment, community, health, education, and pets.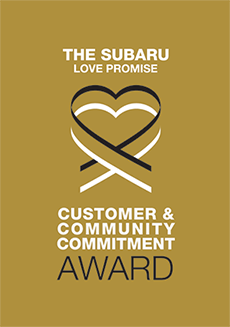 What is the Subaru Love Promise?
Subaru and our retailers believe in making the world a better place and the Subaru Love Promise is our vision of respecting all people. This is our commitment to show love and respect to our customers and to work to make a positive impact in the world.
Pets
Whether they live in our homes or in the wild, Subaru is committed to keeping all animals safe and healthy.
A partner since 2008, Subaru has donated close to $14 million to the ASPCA and helped support nearly 1,000 pet adoption events, resulting in more than 11,500 adoptions to date.
Environment
Loving the environment means more than loving the great outdoors. It means working to preserve it.
Over a decade ago, Subaru became the first U.S. auto manufacturer to become zero-landfill, and now, in collaboration with the National Park Service and the National Parks Conservation Association, Subaru is leveraging that same environmental expertise to help the National Parks reach zero-landfill too.
Education
It's our goal to make the pursuit of knowledge available to as many minds as possible.
Total donations to teachers: $92,233 Over 200 teachers adopted More than 15,000 students impacts
Community
In a perfect world, hunger would be history and hope would be commonplace. We believe a perfect world is possible.
Subaru and Meals on Wheels America worked together to make volunteering easier, by launching a tool called the Meals on Wheels Online Volunteer Drive.
Health
We should all have a chance to lead a healthy life. We're aiming to give as many people that chance as we can.
Subaru has donated more than $4.5 million dollars toMake A Wish, helping to grant 610 wishes in the U.S.
How is Johnson Subaru dedicated locally to the Love Promise?
Our Love Promise can be seen in various partnerships with local charities and non-profits. We're grateful for the opportunity, not only to be a part of our community, but to serve it as well.
Love Promise Stories from Johnson Subaru
Subaru and Johnson Subaru believe in making a positive impact on the communities in which we live and work. We uphold that belief through our Love Promise Community Commitment. Every month, we select inspiring stories from customers and partners from around our area who strive to support our collective commitment and feature them here
Share The Love – Curtis S
From the middle of December until the end of 2019 Johnson Subaru teamed up with the Bob Perks Fund to raise money for local cancer patients. The dealership will give $250 in the name of the buyer for every new car sold from now until January 2nd.The Fund helps cancer patients from Clearfield, Centre, Blair and Huntingdon counties who are referred by healthcare professionals. All money raised by Johnson Subaru stays in the DuBois area.The Bob Perks Fund has given more than $415,000 to Clearfield County cancer patients since 2012. There was an open house with the Bob Perks Fund at the dealership on December 19th.
---
"Loves to Care" Hahne Cancer Center – Curtis S
During the "Subaru Loves to Care Event" Johnson Subaru teamed up with Hahne Cancer Center. They went above and beyond to collect notes of encouragement from dealership customers. Along with that dozens of blankets where donated to the cancer center. There was a presentation of the blankets with the staff of Hahne Cancer Center on July 12th.
---
Kindness Changes Everything – Johnson S
Dear Friends at Johnson Subaru, Thank you just doesn't seem like enough to say, but THANK YOU so much for the 80 blankets and 10 art kits delivered to Hahne Regional Cancer Center. What a great way to share your kindness with others! The staff at Hahne Regional Cancer Center were so thrilled to receive them and will make sure they are used to bring smiles to the cancer patients they care for. They are able to see firsthand how much these gifts mean to our patients and they are truly grateful to you. All of us at Penn Highlands Healthcare appreciate your kindness and generosity. Please extend our gratitude to everyone involved with this project. On behalf of all of us and our patients and their families, we thank you. Your gifts will bring comfort to many cancer patients and that is an incredible gift to give! With warm regards, Donna Haney Fund Development Coordinator
---
Bringing Warmth to Local Cancer Patients – Breanna S
Rick DeSalve and Jeff Smith of Johnson Subaru were generous enough to take time out of their day to stop by Hahne Regional Cancer Center on July 10. Their goal was to make treatment a little more comfortable for cancer patients, and they succeeded by providing 10 arts and crafts kits and 80 blankets. While the weather outside is hot and humid, cancer patients often have difficulty staying warm – a side effect that can be caused by both their medication or the disease itself – making the blankets useful gifts. The arts and crafts kits contain crayons, markers, and more, either to help patients pass the time on their own, or – for those who bring their children to treatment with them – to keep small hands busy while they wait. This is the second year that Johnson Subaru partnered with Hahne Regional Cancer Center on this program. Why does a Subaru dealership sign up to donate thousands of dollars' worth of blankets and craft kits to a local cancer center? "That's just who Bob Johnson is," said Rick DeSalve about the dealership's President. "He believes in helping the community any way we can." Pictured (L-R): Jeff Smith, Traci Tyger, Rick DeSalve, Fran Manners, and Shannon Flanders
---
LLS Donation – Nicole S
Purchasing a Subaru this month allows you to contribute to the Leukemia & Lymphoma Society. As a partner in the Subaru Loves to Care initiative, LLS and Subaru will spread love, warmth, and hope to cancer patients through small, caring gestures. LLS and Subaru will donate thousands of blankets and messages of hope, written by Subaru customers, to patients across the country, and donate arts & crafts kits to children battling cancer. Stop by the dealership and pick up a cool bracelet, too.
---
DuBois Central Catholic Loves Learning – Joyce T
DuBois Central Catholic is thankful to be the recipient of science books from Johnson Subaru of DuBois, Pennsylvania. The dealership's willingness to be involved in the Subaru Loves Learning initiative shows not only a concern for the youth of our area but also a belief in the goals of the American Association for the Advancement of Science. DCC received the selection entitled, "How to Clone A Mammoth…the Science of de-Extinction." For middle school students, the book fits perfectly into the curriculum's Heredity Unit. Studying the role of genomes and the process of cloning will aid students in their understanding of the implications such scientific adventures can have on the world. Without a doubt, the need for balance in nature will become evident even to the youngest middle school age student. Likewise, high school biology students will be challenged even more by this book when studying their Unit on Genetics, with many thought-provoking questions arising and leading to a serious discussion of ethics. Should extinct species (dinosaurs) be cloned and brought back into existence in our current world? By providing the pros and cons, this book will enable DCC students to exercise their critical thinking skills, so necessary for success in life. Thank you, Johnson Subaru for providing educational materials that will enhance the science curriculum of DCC for years to come!
---
Subaru Loves Learning Book Drive - August 1-31 – Molly M
Join us in our Subaru Loves Learning initiative during the month of August! We are partnering with the American Association for the Advancement of Science (AAAS) in donating science books to the Dubois Area Middle School. All of the books that will be donated have been recognized by AAAS as some of the best science books in their field. Contact us to learn more information.⿝
---
Subaru Loves the Earth - E-Waste Event – Danielle S
We would like to thank our customers for participating in our E Waste Recycling event during the month of April. With your help, we were able to prevent 3,177 lbs of carbon emissions from polluting the atmosphere. This is equivalent to saving 122 trees, 541 gallons of gasoline, 4,605 plastic bottles, and 21,182 aluminum cans. Thank you for helping strengthen the Subaru Love Promise!
---
April 1-30, 2015- E-Waste Recycling Event – Molly M
Throughout the month of April, we are hosting an E-Waste Recycling Event in our store to collect unwanted electronics. We've arranged to work with a company who will responsibly collect, re-purpose, and recycle your electronic waste. Help us protect our environment. Just show up with your E-Waste and we'll do the rest! The first 50 customers who contribute will receive a complementary environmental badge of ownership. We will accept: LCD Monitors, Cell Phones, Laptops, Tablets, CRT's up to 40 inches, Video Games/Consoles, Fax Machines, DVD/VCR Players, Printers, Computer Peripherals, Switches/Routers, Cords and Wires.
---